A Mom for Umande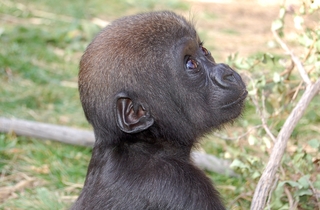 I'd like you to meet Umande. He's a baby gorilla. On a cold winter's night, he was born at the Cheyenne Mountain Zoo in Colorado Springs. The zookeepers set him in a mound of sweet hay, hoping that his mom would take care of him.

She didn't.

She was too young, and she didn't know what to do.

A Mom for Umande is the true story of Umande's search to find a surrogate mom. For eight months, a community of keepers, caregivers and volunteers spent thousands of hours teaching him how to be a gorilla. Then he was sent a thousand miles away to the Columbus Zoo where he found love in the arms of a 41-year-old gorilla named Lulu.


"At the center of this tale, based on a true story, is an adorable baby gorilla whose mother does not know how to take care of him. Not only a special adoption story, but also a heartwarming look at the human-animal relationship."
-- Kirkus, starred review
You can order A Mom for Umande from Amazon and Barnes & Noble.
Download Coloring Pages from A Mom for Umande
Did your little ones love A Mom for Umande? Keep their interest with three new coloring pages from the book! These are perfect for an afternoon activity!
A Mom for Umande was a Show Me Readers Award nominee! The Missouri Association of State Librarians created a lesson guide for the nomination, and you're welcome to download it below. If you use the curriculum, I'd love to hear about your experience.