A Mom for Umande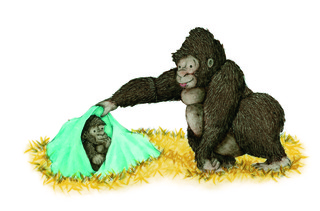 When Umande was born, his birth mom didn't know how to take care of him, so he was hand-reared by zookeepers at the Cheyenne Mountain Zoo in Colorado Springs. After eight months of learning how to be a gorilla, he was sent to the Columbus Zoo where a surrogate mom was waiting...just for him.

You can order A Mom for Umande from Amazon and Barnes & Noble.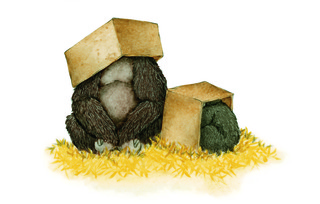 Praise for A Mom for Umande
"At the center of this tale, based on a true story, is an adorable baby gorilla whose mother does not know how to take care of him. Not only a special adoption story, but also a heartwarming look at the human-animal relationship."
-- Kirkus, starred review (read full review HERE)

The New York Times and USA Today recommended A Mom for Umande for Mother's Day. Click publications to view!

School Library Journal, April 2014 Edition
"K-Gr 2–In this picture book based on a true story, Umande, a baby gorilla, is cared for by Colorado zookeepers when his mother ignores him. They encourage the other gorillas to accept him, and after their efforts fail, they teach him gorilla behavior. When Umande is eight months old, he is transported to a zoo in Ohio to become adopted by an experienced mother gorilla. Hartung uses soft figures and colors to ensure that readers fall for the lovable gorilla, and his facial expressions, cuddling, and toe-sucking will endear him to readers. Faulconer's well-researched account is efficient in details, like the gorilla games. Endnotes explain more of the story. Sensitive children may be troubled by Umande's initial isolation and the unintentional mistreatment he experiences from the other gorillas, but the author's style warms from journalistic to poetic as the hero's life improves."
– Gay Lynn Van Vleck, Henrico County Library, Glen Allen, VA

Bulletin of the Center for Children's Books; vol. 67, number 10, June 2014
"When baby gorilla Umande is born in the Cheyenne Mountain Zoo, his mother doesn't know how to care for him. It's therefore up to the zookeepers not only to feed him and nurture him but also to teach him gorilla behavior such as grooming, climbing, and gorilla manners (the keeper "makes happy grumbles" for good behavior and coughs in the youngster's face when he gets too aggressive). After a bit more human care and some careful introductions, Umande is adopted by an experienced mama gorilla, Lulu, at the Columbus Zoo, and the two bond as mother and baby. Based on a real situation that occurred at these zoos, the story is compelling in its portrayal of zookeeping and gorilla habits as well as the mother-child focus that shapes its emotional core. Faulconer's text is direct but often touching: "He wiggles in a mound of sweet hay, smelling the musky odor of the other gorillas, waiting for someone to pick him up. But nobody does." Faces in the art are somewhat bland and generic, but her technique of rubbing, blotting, and scratching oil glazes onto sealed paper adds some needed texture and substance to the pictures, giving the gorilla-only scenes particular depth and aesthetic appeal. Wannabe zookeepers, primate fans, and maybe even families with human adoption or foster situations will find Umande's experiences rewarding. A note gives more facts about Umande and Lulu."
-- JH